I have the Octavia Estate 2.0TDi 4x4 and have found it be a very good towcar for the lighter caravan. For me and my choice, was not to own a heavy caravan needing a big heavy towcar, but I also wanted that extra traction when on a wet rally field or 5 van site and with good fuel economy. My previous cars have been good for towing, Volvo and Citroen but when the rain came, I had to rely on a 4x4 owner to tow me off the field, so the decision was made; Škoda, but then it does have a lot of VW and Audi logos on various components, parts and the latest VW common rail diesel engine.
BHP 138, Torque 320nm/1,750-2,500rpm, Kerbweight 1,495kg, Towing limit 1,600kg, Noseweight 75kg, Haldex 4x4 traction on demand, plenty of load space and 34mpg towing. With my caravan, MTPLM 1,230kg I have a good towing ratio of 82%.
I took delivery in January 2012 after a 7 month wait, then in September I took it back……… to the Czech Republic to see its birthplace at Mlada Boleslav; the Škoda factory and museum, which was very interesting to see how the cars were developed from the actual production of bicycles! before VW took over ownership.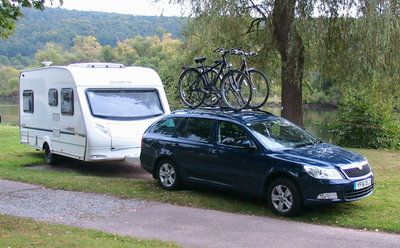 The museum was having a facelift and a rebuild so the exhibits were in a temporary hall and not displayed at their best.
http://s1217.photobucket.com/albums/dd396/spritealpine/Skoda/
Anymore Škoda owners? what do you own with some pictures.